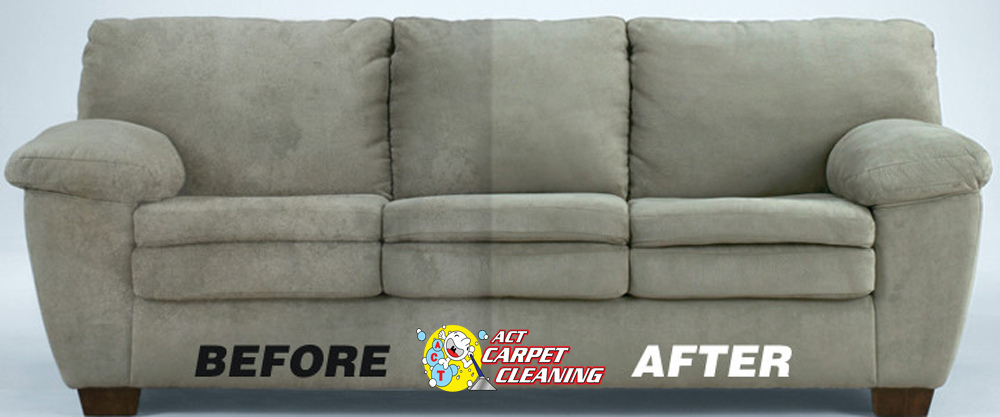 At ACT Carpet & Tile, you can always count on our service to be professional & complete. When we clean your couch, love Seat, chairs etc., there is no question that we will clean the whole couch. Seat & Back cushions, as well as loose back pillows are always cleaned on Both Sides.
Our cleaning method is low moisture & will safely dry within a few hours. In many cases your furniture will be dry before we even leave your home. We have always delighted our customer beyond their expectations.
We clean microfiber!
Dupont commercially produced the first polyester yarn. If you're part of the baby boomer generation, the mere mention of polyester takes you back to the wonder years of bad fashion. Do you remember Saturday Night Fever? Polyester was the hit of the disco fashion trend. Polyester has been reinvented and is back at the top of the fashion scene. Polyester, in its new hip form, is Microfiber.
What Is Microfiber?
Microfiber is the terminology used to describe ultra-fine manufactured fibers and the name given to the technology of developing these fibers. Fibers made using microfiber technology, produce fibers which weigh less than 0.1 denier (Unit used in measuring the fineness of yarns). The fabrics made from these extra-fine fibers provide a superior hand, a gentle drape and incredible softness.
Comparatively, microfibers are two times finer than silk, three times finer than cotton, eight times finer than wool, and one hundred times finer than a human hair. Currently, there are four types of synthetic microfibers being produced. These include acrylic, nylon, polyester and rayon.
Note: While most upholstery is cleaned with water, please inspect the labels under the cushions & determine if your upholstery can be cleaned with water., or must be Dry Cleaned Only. It is your responsibility to know the type of furniture you own. For Dry Clean Only, you will need to call a company that specializes in Dry Fluid Cleaning, this means No Water. Also it would be a good idea to call the store where you bought the furniture for referrals.
Upholstery and Care Guidelines
Follow the simple guidelines below to keep all your upholstered living room, dining room, and bedroom furniture looking like new.
To avoid fading, keep upholstered home furniture away from direct sunlight.
Vacuum upholstered furniture as often as possible. Even if your home furniture has seen little use, the abrasive action of dirt and dust particles can wear the fibers of your upholstery fabric. For high-use furniture, it's a good idea to frequently beat the cushions and then vacuum and rotate them.
Damp-dust arms and headrest areas with a cleaning solution to prevent body oil accumulation on the upholstery fabric (be sure to follow the manufacturer's recommendation as to the type of upholstery cleaning solution to use.
Avoid placing newspapers directly on home furniture upholstery fabric, since ink will accumulate and is difficult to remove.
Never cover your upholstered home furniture with dark-colored blankets, sheets, etc., because the dyes can rub off onto fabric when dry or bleed when wet.
Avoid the use of dyes, paints, inks, nail polishes, and Mercurochrome around your upholstery fabric, since these substances alter color and will stain.
Never remove cushion covers for dry cleaning or machine washing, even though they have zippers.
Periodic professional cleaning will keep soil accumulation from marring the beauty of the upholstery of your home living room, dining room, and bedroom furniture.
Emergency Spills on Upholstery
You've just spilled a glass of wine on your living room sofa—what do you do now? It's important to act promptly but not to panic. Follow these guidelines to control a spill and prevent a stain.
Act quickly before a spill spreads or dries.
For liquid spills:
Blot lightly with a dry paper towel to start. Increase pressure and use a fresh paper towel until no more liquid is absorbed. DO NOT RUB! If residue remains, see the stain removal guide below.
For solid or semi-solid spills (such as foods):
Gently lift the substance from the upholstery with a spoon or dull knife, scraping carefully toward the center of the spill. Treat any wet residue as a liquid spill.For dry spills (such as ashes or dry cosmetics):Adding any liquid to a normally dry substance, such as ashes, may cause a permanent stain. Vacuum, beat the area with a ruler or similar implement, vacuum again, and then use the adhesive side of masking tape to remove any residue.
Always test water or a cleaning agent by applying to the same upholstery fabric on a hidden area of the upholstered piece. Allow to dry completely, then check its effect on the fabric.
Apply water or a cleaning agent (as recommended in the stain removal guide) in small doses to avoid spreading the stain or causing a ring. Be patient; apply several times, blotting firmly with a dry paper towel to soak up the liquid after each application.
Never rub a fabric; rubbing could result in damage to the nap, loss of color, or spreading of the stain.
Restore the nap on velvet by brushing gently before it dries.
To avoid water spotting, use a fan or cool blow dryer (on a cool setting) to accelerate drying. Dry from the outer edge of the affected area toward the center.
If the stain persists, seek professional cleaning assistance.
Free Estimates – Give Us A Call Today 661-333-9624
Serving Bakersfield CA & Surrounding Areas.
Free Estimates